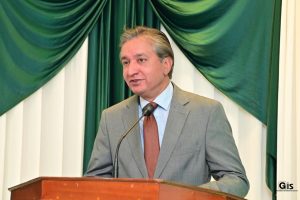 Pakistan and Mauritius diplomatic relations have gained momentum in past few years. From being cordial and friendly, for centuries before the independence of Mauritius in 1968, the bilateral relations are getting deeper and more centric towards people to people contacts. Pakistan-Mauritius relations have matured into a stable friendship. People of the two countries enjoy close cultural affinity. The two countries have cooperated at various international forums. Pakistan continues to support Mauritius on its claim over the Chagos Archipelago issue (Diego Garcia) at the United Nations.
While the political relations are gaining strength, the trade and economic potential between the two countries needs to be optimized with bringing awareness about the trade complementarities of the two countries. Pakistan and Mauritius signed a Preferential Trade Agreement (PTA) in 2007, however the trade volumes remained stagnant and the real prospect remained untapped. Both the countries are willing to hold the 11th round of Joint Working Group (JWG) on Trade once the new government in Pakistan takes charge in coming months.
Exchange of trade delegations from both countries remained a regular feature during past two years. In February 2022, a 16-member business delegation from Mauritius participated in 1st Pakistan Engineering & Healthcare Show'22 held in Lahore. Another Mauritian business delegation participated in the 3rd Pak-Africa Trade Development Conference, held in Johannesburg from November 29– December 1, 2022. In January 2023, a delegation from agriculture sector participated in 'Pakistan Horti-Expo 2023' in Lahore. A strong 5-member business delegation from textile sector of Mauritius participated in TEXPO-2023, held in Karachi from May 26-28, 2023. Recently, a delegation from Mauritius participated in the Food and Agriculture Expo in Karachi from August 10-12, 2023.
To protect mutual investments in both the countries, the Board of Investment of Pakistan (BOI) and the Ministry of Finance and Economic Development, Republic of Mauritius have initiated negotiations on New Model Bilateral Investment Treaty (BIT). Moreover, to promote trade and investment between Pakistan and Mauritius, the BOI has appointed Mr. Rafick Elahee, a leading Mauritian businessman and former High Commissioner of Mauritius to Pakistan as the 'Honorary Investment Counsellor' (HIC) of Pakistan in Mauritius. With the appointment of Mr. Elahee as the HIC, convenient facilitation in bilateral trade and investment would be available for the business sector of Mauritius.
In terms of cooperation on institutional frameworks between Pakistan and Mauritius, the governments of both the countries recently signed three important Memoranda of Understanding (MoU). These included, "Agreement on Mutual Administrative Assistance in Customs Matters" (signed in December 2022), MoU on 'Cultural Exchange Program 2023-26' (signed in January 2023) and MoU on "Cooperation in Combating Illicit Trafficking and Abuse of Narcotic Drugs, Psychotropic Substances and their Precursors" (signed in February 2023). The signing of these MoUs shall provide further opportunities of cooperation between the two countries.
In past two decades, Mauritius witnessed exemplary transformation from a low-income, agriculture-based economy to a diversified, upper middle-income economy with growing industrial, financial, and tourist sectors. In most of the global economic, human development, democratic, environmental and business indices, Mauritius is the leading country in Africa and is also strong competitor with the developed countries in any index. The World Bank's Doing Business Index 2021 had placed Mauritius at 13th rank which speaks volumes about the state of Mauritian financial institutions and ecosystem of business infrastructure. This data is highly promising for enhancing trade and economic relations between Pakistan and Mauritius.
The government of Pakistan stands proud to offer assistance to Mauritian students for Post Graduate and Undergraduate degrees and courses in various fields including Medicine, Engineering, B. Pharmacy, Banking and Dentistry. Moreover, a number of Mauritian diplomats have availed training at the Foreign Service Academy of Pakistan under the Pakistan Technical Assistance Program. Other scholarships offered by Pakistan include those from Pakistan Marine Academy and Pakistan Railways. In addition to this, the High Commission is pursuing to offer a scholarship to Mauritian students in musicology, particularly in qawali genre.
The visit of Pakistani Ophthalmologists to Mauritius for the last 14 years to perform free of charge eye surgeries has greatly helped the deserving patients. The High Commission wishes to thank the Mauritian Government for facilitating cornea transplant and vitro retinal surgeries being performed by Pakistani eye surgeons in Mauritius. The next visit of Pakistani Ophthalmologists to Mauritius is expected early September 2023.
Last year, on the auspicious occasion of 75th Anniversary of Independence Day of Pakistan and to celebrate 55th anniversary of the establishment of diplomatic relations between Pakistan and Mauritius, the High Commission organized 'Pakistan Week 2022' from September 2 – 8, 2022. The activities were spread over week-long celebrations including an Essay Competition, Pakistan Film Festival, a friendly Cricket Match, a Sufi/Qawali night, Painting & Photographic Exhibition, Pakistan Food Festival and a Musical Concert. These events offered our Mauritian brothers and sisters, an opportunity to appreciate and enjoy Pakistani culture, art, music, sports and cuisine all in one week. The government of Pakistan formally thanked the government of Mauritius in facilitating holding of Pakistan Week 2022 where the leadership of the country participated in all its events.
This year, Pakistan is celebrating its 76th anniversary of its independence. August 14th – Independence Day of Pakistan, is being celebrated with patriotism and fervour by Pakistanis across the world. The history of Pakistan's independence gives a lesson to the new generation about the steadfast efforts and passion through which the Muslims of the sub-continent, after a prolonged struggle, got their homeland. The role played by Sir Syed Ahmed Khan after 1857 by establishing Anglo-Oriental Muhammadan College, which later turned into Aligarh University, led to the creation of All India Muslim League (AIML) in 1906. Later on, many political stalwarts of the AIML and their persistent political career and negotiations with the British rulers led to the creation of Pakistan on August 14, 1947. Allama Muhammad Iqbal, the person who dreamt about a separate homeland, is the national poet-philosopher of Pakistan who during his presidential address of AIML session on December 29, 1930 at Allahabad proposed the idea of an independent country. This dream was realized by the visionary leadership of Quaid-e-Azam Muhammad Ali Jinnah, who was later termed as the 'Father of the Nation'. Jinnah, during his inaugural speech on August 14, 1947 stated, "You are free; you are free to go to your temples. You are free to go to your mosques or to any other places of worship in this State of Pakistan. You may belong to any religion, caste or creed — that has nothing to do with the business of the state". I would end this article with one of the most popular verses from Iqbal which translates as,
"May God descend upon my holy land,
The crop that does not fear the fall.
The flowers that opened here remained open for centuries.
Don't let autumn pass here."
During November 2023, on the occasion of the 146th birth anniversary of the national poet, Dr. Allama Muhammad Iqbal, the High Commission is planning to organize 'International seminar on Allama Iqbal's Poetry and Philisophy", calligraphy exhibition on select poetry of Iqbal and recital of Iqbal's poetry followed by a Qawali session and a Pakistan Food Festival. It is hoped that these event would also provide an opportunity for our Mauritian friends to understand Allama Iqbal's message of love, peace, harmony, romance and his spiritual philosophy.
"Pakistan – Mauritius dosti Paindabad"
Muhammad Arshad Jan Pathan
High Commissioner of Pakistan to Mauritius