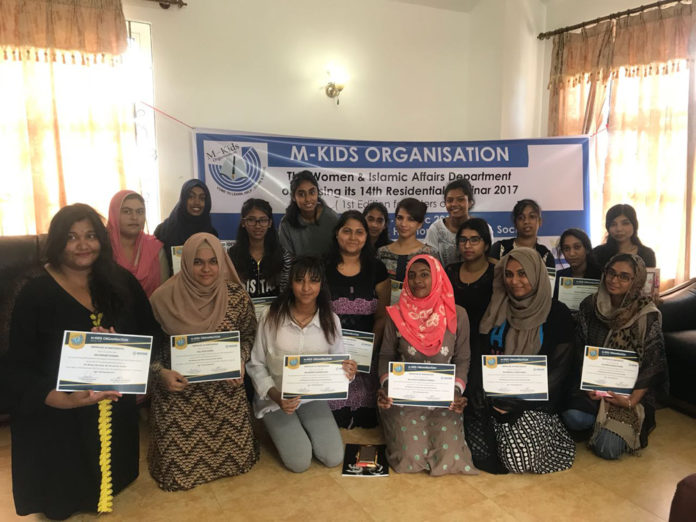 A l'initiative de M-Kids
Un séminaire  résidentiel intitulé The woman, Her home, Her job and Society organise par l'association M-Kids s'est tenu à Trou aux Biches du 8 au 10 décembre afin de soutenir les femmes dans la société contemporaine.
Par ailleurs, Mme Nawsheen Chummun l'épouse de l'Imaam Arshaad Joomun  a prononcé un détail sur le statut de la femme au sein de l'islam. Les jeunes ont eu l'occasion de travailler en équipe en participant à des activités comme des quiz et des débats, des compétitions culinaires, des activités environnementales qui leurs permettront à s'épanouir, à relever les défis et à trouver des solutions aux différents problèmes auxquels les femmes font face dans la société.
En outre, ce séminaire a permis aux filles/femmes d'avoir de la compassion envers les unes et les autres. Ce sont des femmes émancipées qui sont entrées chez elle après ce séminaire.
Le M-Kids tient à remercier ses sponsors, dont Neetoo Industries, Conseil de district de Pamplemousses, Le ministère de l'Environnement et Choonee Cold Storage pour leur collaboration.