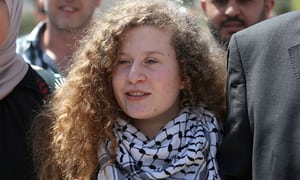 By Rama Valayden
 Last Sunday Ahed Tamimi Palestinian teen activist was released after having served eight months' imprisonment within the harsh conditions of Israeli's prison. Do you remember why Ahed Tamimi was sentenced to prison: Ahed Tamimi was sent to prison for having hit and slapped Israeli soldiers within the occupied West Bank. Her mother was also sentenced to serve the same term of imprisonment.
Addressing a huge enthusiastic crowd Ahed Tamimi said "my happiness is not happy without my sisters (note: Palestinian female prisoners) who are not with me. I hope they will also be free".
That young girl, nay, lady of 17 years delivered a message which was handed to her by Palestinian female political prisoners saying that they "call for national unity inside Palestine; for the people of Palestine to remain strong and United in their resistance; and for everyone to stand with the rights of political prisoners and work for their release" that great lady who is sacrificing her teenage time for the cause of Palestine also said:
"In the end I want to say that the power is with the people and the people will and can decide their destiny and decide the future. Women are a key part of the Palestinian struggle for freedom and the women's role will continue to expand, not only in the struggle but by producing new generations that can continue the struggle".
We say: "Leave, leave occuputation".
Tamimi and her mother Nariman were arrested by Israeli army in December 2017 after a video showing her hitting and slapping two heavily armed Israeli soldiers outside her home which is found in Nabi Saleh. At that time Ahed Tamimi was only sixteen years old. Tamimi was indicted on 12 charges in an Israeli military court. After the video went viral the Israeli swamped the "village of Nabi Saleh and arrested several residents"!
At the beginning of this year Israeli soldiers painted all sorts of dirty graffiti in Hebrew against our young icon like "death to Ahed Tamimi", "no right to live for Ahed Tamimi" and other very dirty writings which your imagination can decipher. Some illegal (according to international law) Jewish settlers even organised demonstrations carrying all sorts of makeshift coffins and chanted over and over "death to Ahed Tamimi".
The whole family of Tamimi is involved in the struggle for a free Palestine. According to Ahed Tamimi's aunt, Manal, who is also a very courageous militant 15 Nabi Saleh residents are still in Israeli custody including 4 minors.
Do you know that Palestinian women and minors are subjected to all sorts of abuses in Israeli prisons? Israeli guards are commonly involved in the sexual abuse of female prisoners … verbally and physically. According to Addameer, a Palestinian prisoner's rights group the Israeli's authorities refuse systematically to provide Palestinian female prisoners with
"necessary sanitary products".
Do you know how many Palestinian prisoners are held in Israeli prisons:
As of June 2018:
5900 in total
1600 women
291 minors
Ahen Tamimi who is very intelligent, is planning to study very hard to become a barrister so that one day the Israelis will have to account for the occupation.
I pray Ahed Tamimi succeeds …
Ahed Tamimi has not only slapped two Israeli soldiers while being unarmed but has slapped the morale of the state of Israel. Shame on you Israel …