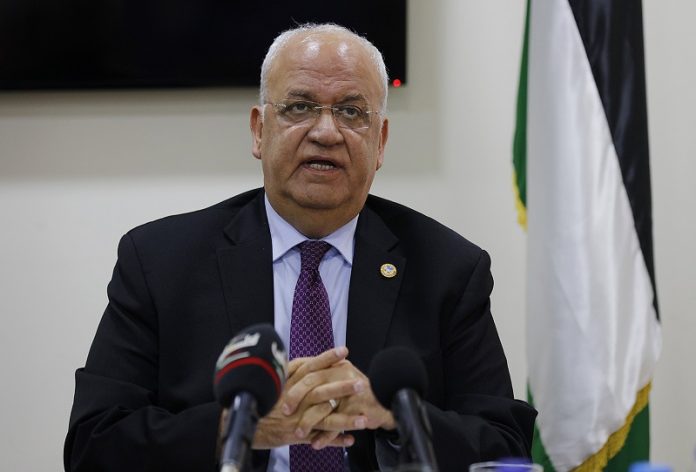 We Mauritians are at loss to name ten top Palestinian faces. But if we have to name three, Dr Saeb Erekat is surely among them. The others are without doubt, the legendary Yasser Arafat (one of my great heroes) and President of the Palestinian authority Mahmoud Abbas. Dr Saeb Erekat a very familiar & friendly face of the Palestinian struggle and Palestinian politics passed away on Tuesday 10th November from the covid 19.
Dr Saeb Erekat was 65 years old. Sir Gaetan Duval was also 65 years old when he passed away. Why Sir Gaetan when I am writing a quasi-obituary of Dr Saeb Erekat? Simply, it is a fact that we were together when we met Dr Saeb Erekat in London in 1994 during the conference held at Red Lion Square to protest against the war in Iraq. Kader Hossenally was also with us during the whole conference.
I was in awe & struck to meet people like Dr Saeb Erekat who oozed with optimism, firm believer in human kindness. When you hear Dr Saeb Erekat speaking one can't hear a single word or even innuendo against Jews. Dr Saeb Erekat was fighting the Zionist & Zionism not the Jews.
Dr Erekat was a longtime spokesperson for the Palestinians. He was a veteran peace negotiator who has known the likes of Francois Mitterand, Gorbatchev, Thatcher, Helmut Kohl, Bill Clinton and many others…
Dr Saeb Erekat has seen the Israeli army rolling its tanks in his hometown of Jericho when he was twelve years old. He has lived under the Israeli occupation.
In 1967 Dr Saeb Erekat witnessed the war which lasted six days but with indelible effect on his young mind. The 1967 war changed his whole life.
First arrest of Dr Saeb Erekat happened when he was only 13 years old. Arrested for organising mass demonstrations against the fascist army of Israel. Dr Saeb Erekat was already qualified by the Israelis as a terrorist.
Where did Dr Saeb Erekat study?
Dr Saeb Erekat studied in the United States of America and later obtained another scholarship to complete a PHD in conflict resolution in England.
Dr Saeb Erekat, however, was too ready to make huge compromises & major concessions to the Israelis in order to reach Palestinian statehood. Dr Saeb Erekat was a firm believer of a two-state solution based on the 1967 borders.
Many Palestinians saw him as a 'Traitor' because he was giving away too much. And for the Israelis Dr Saeb Erekat was an extremist. For the Israelis he was sowing divisions & should not be trusted. Difficult to be a peace negotiator. Difficult to be a peace negotiator especially when you are conducting talks with the Israelis who are so multi faced. The aim of the Israelis has been and is to divide the Palestinians until the souls of the Palestinians are divided.
In 1991 during the Madrid peace talks he insisted, yes insisted even against the advice of other top Palestinians to wear the KUFFIYEH, the symbol of Palestinian national identity at the Madrid conference. He was looked down by all western negotiators but in Palestine he was a hero. Dr Erekat raised the level of dignity of the Palestinians.
In 1993 Yasser Arafat left him out of final talks on the Oslo accords. Yasser Arafat wanted to please the Israelis and the Americans because when Dr Erekat is around the negotiations get tough. But in 1995 Dr Erekat would rise to become the chief Palestinian negotiator.
Another bat trait of his character is that he was prone to resignations if he did not have his way. Dr Erekat has resigned several times from his post to come back later. Come back sometimes stronger and sometimes weaker…
In 2011 Dr Erekat was mired with controversy following the publication of "PALESTINE PAPERS" by Al Jazeera. The leaked documents covered more than 1,600 confidential records of all sorts (from notes of meetings, Emails, strategic build up, contacts worldwide to communications between Palestinians, Israelis and the leaders in the West) which greatly affected his credibility. Why? Because the documents detailed huge concessions offered by the Palestinians to the Israelis without anything in return. Nothing for the refugees! Nothing for the occupied East Jerusalem. The leaked documents said that Dr Erekat was ready to offer the Israelis "THE biggest Yerushalayim (The Hebrew word for Jerusalem) in history…
I must quote Dr Erekat; (in order for you to understand the man)
"To those who want to bury the two state solution. What is the real alternative to a two state solution, the real alternative to the State of Palestine living side by side with the State of Israel in peace and security on the 1967 lines as one democratic secular State where Jews, Muslims, Christians can live with EQUAL voice…"
With Equal voice…
May his vision become true…
Dr Erekat was behind the success of the Palestinians to gain observer status for the State of Palestine within the United Nations as part of a strategy to force Israel to face trial at the International Criminal Court (ICC) as an occupying force.
Thank you Dr Erekat.
May God Bless You!
RAMA VALAYDEN
NOTE : Les points de vue exprimés dans cette rubrique ne reflètent pas nécessairement ceux de la rédaction.